Stanislav Dvořák
Czech Republic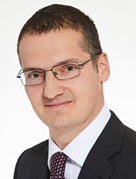 Dvořák Hager & Partners
Oasis Florenc, Pobřežní 394/12
186 00 Prague 8
Czech Republic
Tel: +420 255 706 500

Email:
stanislav.dvorak@dhplegal.com
Web:
www.dhplegal.com
Stanislav Dvořák is an attorney-at-law specializing in corporate law, particularly mergers & acquisitions and capital markets, litigation and insolvency. Stanislav Dvořák also has significant experience in representing clients in administrative court proceedings, especially in tax matters.
Before establishing Dvořák Hager & Partners, Stanislav Dvořák worked as a lawyer for Arthur Andersen and, later, as an attorney-at-law for Weinhold Legal where he has advised a number of major Czech and multinational corporations.
Stanislav Dvořák graduated from the Faculty of Law at Charles University in Prague where he later pursued postgraduate studies (PhD.). He also studied at Thames Valley University in London and at Hamburg University in Germany (LL.M.).
In addition to his practice as attorney-at-law, Stanislav frequently lectures, e.g. for the Union of Legal Counsels, and contributes to professional legal publications. His book, entitled "Merger Control", was published in 2002. Apart from Czech, he is fluent in English and German.
We provide complete legal support in all types of mergers and acquisitions, including acquisitions made within pending insolvency proceedings spin-offs, squeeze-outs and other intra-group reorganizations. We advise on corporate structures contemplated between shareholders and new investors, and we help our clients to structure and negotiate their joint ventures, including related advisory on potential regulatory matters.
We also provide standard corporate secretarial support including full support in the preparation, management and administration of general meetings.
We are highly experienced in drafting and negotiating commercial contracts, including complex contracts for work and/or the provision of services for large scale commercial projects.
Legal services provided by our team include namely advice on:
Acquisitions and divestments (both on the sell and buy side), including advisory in the structuring of transactions, due diligence process, drafting and negotiation of contractual documentation.
Joint-ventures, including drafting and negotiation of shareholders agreements.
Intra-group restructurings, such as mergers, de-mergers and spin-offs.
Squeeze-outs of minority shareholders.
Take-over bids and related regulatory issues.
Legal support for standard corporate matters, including the organization, management and administration of general meetings.
Commercial transactions, including the drafting of various types of commercial contracts and related negotiations/support. Legal review of the standard commercial contracts used by a company, including the preparation of "contract manuals".
With more than 40 lawyers, most of whom have prior experience working in renowned international and local firms, the team has vast knowledge in the area of corporate law, including mergers and acquisitions, capital markets, finance law, real estate, employment law, and litigation and arbitration, as well as criminal law and criminal liability of legal persons.
As two of the most dynamic economies in Central Europe, the legal systems in the Czech Republic and Slovakia are continually evolving. For this reason in particular it is very important for a law firm to follow economic and legal developments and to provide clients with advisory services in the appropriate extent and manner.
"The 'very diligent' team is home to partners Stanislav Dvořák and Stanislav Servus, both of whom focus on corporate M&A work."