Jeffrey J. Rosen
USA: New York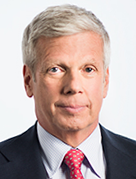 Debevoise & Plimpton LLP
919 Third Avenue
New York, NY 10022
United States
Tel: +1 212 909 6281

Email:
jrosen@debevoise.com
Web:
www.debevoise.com
Jeffrey Rosen, Chair of the firm's Corporate Department, is one of the leading M&A lawyers in New York. Mr. Rosen is a member of the Mergers & Acquisitions, Private Equity and Securities Practice Groups. In addition to mergers and acquisitions, his practice has focused on complex joint ventures, restructurings and securities offerings, and corporate governance matters. He also counsels boards and senior management on critical governance issues, including risk management, activist challenges and restructurings.
Mr. Rosen is ranked in Band 1 for corporate M&A by Chambers Global (2017-2018), which describes him as a "major force in the market," "one of the finest lawyers in town," "excellent at deal strategy and execution" and "extraordinarily experienced, intelligent and creative." He is also recommended for both M&A and private equity buyouts by Chambers Global (2018) and Chambers USA (2018), where one client notes that he is "at the top of the game," a "Superstar" and "one of the smartest guys that I have met in my whole life," others say that his "main strength is that he can anticipate the questions I don't ask," elaborating that "he's one of the most intelligent people I've dealt with," and that "he has a complete grasp of business, structure and tax issues." He is recognized as a leading M&A lawyer by IFLR1000 (2018) and in The Legal 500 Hall of Fame for large ($1bn+) deals.
Mr. Rosen was selected to speak at the "30th Tulane Corporate Law Institute," one of the leading M&A, corporate and securities law conferences in the United States. He spoke on the "Continuing Impact of Appraisal Rights" panel regarding the implications of appraisal rights actions arising from M&A deals. In 2010, Mr. Rosen was one of three corporate lawyers recognized by The National Law Journal on its list of "The Decade's Most Influential Lawyers" – the 40 lawyers whose work the publication said "was so consequential that it helped to push the profession, an industry or a practice area substantially forward." He was named Dealmaker of the Year by The American Lawyer in 2009 for his representation of Verizon Wireless in its $28.1 billion acquisition of Alltel Corporation, in 2007, for his representation of International Paper in its $6.1 billion divestiture of timberlands, and in 2004, for his representation of General Electric and NBC in their $14 billion acquisition of Vivendi Universal Entertainment.
Prior to entering private practice, Mr. Rosen served as Executive Assistant to Treasury Secretary G. William Miller and was a law clerk to the Hon. William J. Brennan, Jr., U.S. Supreme Court and the Hon. J. Skelly Wright, U.S. Court of Appeals for the District of Columbia Circuit.
Mr. Rosen received his J.D. magna cum laude from Harvard University in 1978, where he was Supreme Court editor of the Harvard Law Review and a recipient of the Sears Prize and the Fay Diploma. He received his B.A. magna cum laude with highest honors from Harvard University in 1971.
Debevoise & Plimpton LLP is a premier law firm with market-leading practices, a global perspective and strong New York roots. Our clients look to us to bring a distinctively high degree of quality, intensity and creativity to resolve legal challenges effectively and cost efficiently.
Deep partner commitment, industry experience and a strategic approach enable us to bring clear commercial judgment to every matter. We draw on the strength of our culture and structure to deliver the best of our firm to every client through true collaboration.
By any measure, Debevoise is among the leading law firms in the world. Nearly 85% of our partners are recognized by Chambers, The Legal 500 or IFLR. The firm was also the winner of The American Lawyer's "10-Year A-List," a ranking of the law firms who have earned the highest cumulative score on the A-List since its inception.
Approximately 700 lawyers work in nine offices across three continents, within integrated global practices, serving clients around the world. Our lawyers prioritize developing a deep understanding of the business of our clients. We then pursue each matter with both intensity and creativity to achieve optimal results.
Further, Debevoise is recognized as one of the leading firms for diversity. We believe that a diverse workforce, where all of our colleagues feel respected, builds a stronger firm, and benefits clients and the wider community.
The firm's culture fosters a collaborative approach across disciplines and regions, and, as a result, clients benefit from the dedication, cohesiveness and superior quality that we bring to all of our work worldwide.
"Superstar" Jeffrey Rosen remains a go-to lawyer for M&A. Sources note he is "at the top of his game" and "one of the smartest guys that I have met in my whole life."