Ruby Asturias
Guatemala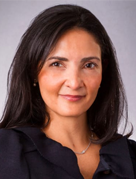 EY Law
Diagonal 6,12-42, 10 zone Design Center
Tower II, Office 1001
Guatemala City, Guatemala
Tel: +502 2386 2400

Email:
Ruby.Asturias@gt.ey.com
Web:
www.eycalaw.com
With more than 17 years of experience, Ms. Ruby Asturias specializes in Corporate and Commercial Law with emphasis on Corporate and Labor Legislation, Tax, Foreign Investment, Mergers and Acquisitions, Franchising, Licensing and Joint Ventures.
She was one of the founders, partner, and chairman of the Board of Directors of the firm ACZALAW Abogados Centroamericanos Asociados, with presence in Central America.
She has been Chair of the NYSBA Guatemala Chapter, and in 2012 was appointed Chair of the Leading Committee of the NYSBA Latin American Council which she co-founded. In 2012, Latin Lawyer and Vance Center awarded her the "Leading Light" recognition. Chambers Latin America and Chambers Global have recognized her as "Leading Lawyer" for five consecutive years (2010-2015). In 2013, Legal Media Group, IFLR1000, awarded her the "Americas Women in Business Law" prize.
She is an Attorney and Notary, Cum Laude, from Universidad Francisco Marroquín. She also holds Master's degrees in Corporate Law and in Finance and Taxation from Universidad Francisco Marroquín, and a Master's in Law from Universidad Católica de Chile.
EY Law provides comprehensive advice on all areas related to the commercial and business activity, both in the daily performance of your company for effective decision making and in complex operations. Integra provides a high level of expertise in sub-areas such as:
Corporate and company structuring and optimization
Negotiation, preparation and standardization of contracts
Equity planning
International transactions
Dispute settlement, litigation, arbitration and reconciliation
Licenses and government authorizations
Competition and consumer
Distribution and franchising
Electronic commerce
EY Law is a regional and integrated, legal services firm delivering value-added solutions through highly qualified, multidisciplinary, multicultural professionals with extensive experience in Central America, Panama and Dominican Republic. The legal team consists of 42 lawyers.
Our approach goes hand in hand with excellence, efficiency, speed and safety in achieving goals that make a difference. We understand that, in addition to focusing on your area of expertise, our advice should be aligned with your broader business objectives. Our lawyers work closely with professionals from other parts of the EY business, including: tax, transaction, advisory, and audit.
By serving you across borders, our multidisciplinary approach means that we provide relevant, integrated and global assessment, in which you can trust.
"Department head Ruby María Asturias Castillo is a key figure in the corporate field, and comes highly recommended by clients. They endorse the "personalised client service and impeccable knowledge" she provides, going on to say: "She is highly detailed and deeply dedicated to quality." She is also commended as "a proactive and engaged adviser.""