Reeba Chacko
India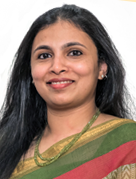 Cyril Amarchand Mangaldas
201, Midford House
Bengaluru – 560 001
India
Tel: +91 9945704563

Email:
reeba.chacko@cyrilshroff.com
Web:
www.cyrilshroff.com
Reeba specializes in private equity & venture capital investments, mergers & acquisitions, takeover and joint ventures. Her work experience ranges across various sectors including real estate and infrastructure, technology, retail and ecommerce, pharmaceuticals & healthcare, defence and education.
Chambers Asia Pacific, has ranked her as Notable Practitioner for Corporate M&A and Private Equity for 2017 & 2016.
Our largest practice group, our corporate team has a market-leading reputation in India. Our corporate lawyers, including over 30 partners, are recognised as pioneers, having achieved many firsts in mergers and acquisitions, and consistently delivering innovative solutions for clients.
India has a complicated and detailed exchange control regime. We have extensive experience working with foreign investors on their India strategy and also guiding them through the regulatory framework for foreign investment – whether this relates to acquisitions or setting up of greenfield or joint ventures.
We advise corporations through all stages of the business life cycle, including:
• Choosing and establishing the appropriate business entity
• Securing venture capital/ private equity funding
• Exploring opportunities for inorganic growth
• Advising on business and operational restructuring
• Ensuring ongoing legal and regulatory compliance
• Working through dissolution and other exit strategies.
Our partners appreciate the differing economic characteristics across various sectors, and have developed deep domain knowledge of heavily regulated sectors such as banking, mutual funds, insurance, stock and commodities exchanges.
In private equity, our lawyers regularly act as external counsel to some of the biggest and most prestigious private equity firms in the world, India-focused multilateral financial institutions and sovereign wealth funds, and domestic private equity and venture capital firms. Complementing our private equity practice group is our investment funds practice group, which advises private equity firms on setting up their India-focused funds, both onshore as well as offshore.
Cyril Amarchand Mangaldas takes forward the legacy of the erstwhile 100-year old Amarchand & Mangaldas & Suresh A. Shroff & Co., whose pre-eminence, experience and reputation of almost a century has been unparalleled in the Indian legal fraternity.
Tracing its professional lineage to 1917, the Firm of Cyril Amarchand Mangaldas is now the largest full-service law firm in India, with over 690 lawyers (including 120 partners), and offices in India's key business centres at Mumbai, New Delhi, Bengaluru, Hyderabad, Chennai and Ahmedabad. The Firm advises a large, and varied client base that includes domestic and foreign commercial enterprises, financial institutions, private equity funds, venture capital funds, start-ups and governmental and regulatory bodies.
"Very commercial, structured and solution-oriented firm. They are typically able to find ways to get solutions implemented"; "They continue to live by the high standards that they have set for themselves."