Oleksandr Nikolaichyk
Ukraine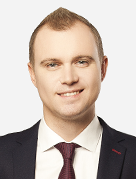 Sayenko Kharenko
10 Muzeyny Provulok
Kyiv 01001
Ukraine
Tel: +380 44 499 6000

Email:
ONikolaichyk@sk.ua
Web:
www.sk.ua
Oleksandr Nikolaichyk is Partner at Sayenko Kharenko in Kyiv, Ukraine. Oleksandr deals with the firm's most complex multijurisdictional corporate transactions including acquisitions, joint ventures, corporate finance, corporate and pre-IPO restructurings, equity and asset sales. Oleksandr also advises clients on various corporate governance issues, general corporate and investment matters, stock market and securities transactions.
Based on his in-depth understanding of the local business environment and of the challenges faced by private and public corporations in Ukraine, Oleksandr advises the firm's high-profile foreign and domestic clients. He has extensive experience across a variety of sectors and industries including banking, real estate, retail, energy & resources, industrials, logistics and infrastructure.
Oleksandr is actively involved in the Ukrainian legal community and is a member of various initiatives. In the last few years, he has been engaged in the development of important laws and regulations in the areas of corporate governance, compliance and capital markets.
Sayenko Kharenko is widely recognised as the country's leading adviser on M&A and other corporate matters. Our M&A team has an exceptional track record across various sectors and industries. For many years, we have been privileged to handle some of the most innovative and sophisticated transactions in the market.
Having an experienced team of lawyers specialising in complex cross-border stock and asset acquisitions, joint ventures and corporate restructurings in a wide range of industries, we offer a combination of exceptional transactional skills and deep industry expertise that enables us to remain business-oriented while rendering high quality legal advice. This helps us to create cutting-edge legal solutions for our clients.
Sayenko Kharenko enjoys a global reputation as one of the leading Ukrainian law firms with an internationally oriented full-service practice. We specialize in complex cross-border and local matters and regularly handle the largest and most challenging projects involving Ukraine.
We have introduced many new products in Ukraine, especially in finance and capital markets, and have significantly contributed to the development of many markets and industries. Our clients especially value our practical and innovative approach and our ability to deeply understand and help achieve their strategic and business goals.
This has helped us become the preferred legal counsel for many of the largest multinational corporations, banks and other financial institutions, including Fortune 500 companies, industrial groups, international public organizations, and individual business owners.
The firm is top-ranked in multiple practice areas according to all major international legal directories, including Chambers Global, IFLR1000 and The Legal 500.
"Long-standing domestic firm that regularly acts alongside international law firms, advising on the Ukrainian aspects of high-stakes global M&A deals, providing due diligence, compliance support and document drafting. Particularly well known for its transactional experience in the financial services sector. Also advises on day-to-day corporate issues and regulatory matters"