Nini N. Halim
Indonesia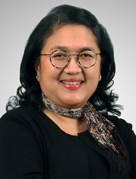 Hutabarat Halim & Rekan Lawyers
20/F DBS Bank Tower, Ciputra World 1
Jl. Prof. DR. Satrio Kav. 3-5
Jakarta 12940, Indonesia
Tel: (62-21) 2988 5988

Email:
nini.halim@hhrlawyers.com
Web:
www.hhrlawyers.com
Nini Halim is a Partner at HHR Lawyers and leads the Corporate and Investment Practice Group, she has developed an extensive practice not only in corporate and investment works, but also complex corporate restructuring and M&A transactions. All these have led her to be consistently acknowledged by the Asia Pacific Legal 500 as one of the leading individuals in Corporate/M&A in Indonesia. She has also been endorsed as one of the leading legal experts in the general corporate practice by the Asia Law & Practice. Her other specializations encompass: (i) Corporate and Investment; (ii) Intellectual Property and Information Technology, (iii) Manpower and Industrial Relations; (iv) Real Property, and (v) Media and Telecommunications.
Her particular experience in structuring legal frameworks and strategy, as well as preparing transactions documents has led her to handle and represent the interest of various multinational companies.
A graduate from the Faculty of Law of the University of Indonesia, Nini is one of the founding partners of HHR Lawyers. Before establishing HHR Lawyers, Nini has worked for an American multinational technology company and one leading commercial law firm in Indonesia. Her extensive experience in handling and structuring various foreign investment works has made her a good source of contact for foreign clients from any country intending to invest into Indonesia or do business with Indonesian corporations.
HHR Lawyers has extensive experience in the Corporate and M&A sector for more than 20 years of in-depth experience. HHR Lawyers provides consistently high-quality and professional solutions on time in relation to the matters with the most transparent and dependable as well as professional international corporate legal services.
HHR Lawyers serves clients of all sizes, from Indonesian entrepreneurs to Fortune 200 companies. We represent our client in broad range of corporate and M&A works in trans-border and large-scale projects involving multiple jurisdictions of corporate & investment matters involving an Indonesian company, including public take overs, private M&A deals, debt and equity issues, trans-border joint ventures, general foreign investment matters, divestments and corporate restructurings as well as reorganisations, liquidations, general corporate governance and company secretarial issues, and advising our clients on the regulatory issues in relation to corporate and M&A issues.
All matters in relation to legal services are administered under our Corporate & Investment Practice Group ("Corin PG"). Our Corin PG is driven to be innovative and client-focused approach to corporate & investment matters, and this has lead our Corin PG becoming one of our leading areas of practice within the firm. Our partners have been acknowledged by Asia Pacific Legal 500 and other international publications as the leading individuals in Corporate and M&A in Indonesia.
HHR Lawyers is a top tier Indonesian commercial law firm with an eminent professional reputation. Since its establishment in 1996 by its two founding partners – Pheo M. Hutabarat and Nini N. Halim, HHR Lawyers has evolved and demonstrated its ability to provide superior legal works and client services, thus sustaining its ability to be one of the most reputable and leading commercial law firm in Indonesia with a global reach.
With more than 20 years of experience and its multi-years of practice, HHR Lawyers is fully supported by a number experienced Indonesian lawyers and foreign legal consultants with skills across a broad range of commercial, corporate, finance and commercial dispute matters.
HHR Lawyers provides full range of legal services to its clients, and has established several practice areas within the firm to develop its legal services. HHR Lawyers' expertise and capability have been acknowledged in various professional circles.