Nikita Madya
Zimbabwe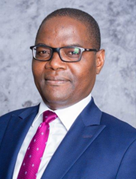 Wintertons Legal Practitioners
Beverley Corner,
11 Selous Avenue
Harare, Zimbabwe
Tel: +263 772255 949

Email:
nikita@wintertons.co.zw
Web:
www.wintertons.co.zw
Nikita Madya is a Partner with Wintertons Legal Practitioners, a leading commercial law firm based in Harare, Zimbabwe.
Nikita is a highly experienced corporate and commercial lawyer who has been in the field for more than eighteen (18) years. He has extensive experience with corporate and commercial transactions having been involved in a number of mergers and acquisitions for both listed and unlisted companies covering various industries. He now specialises in transactions in energy, natural resources, construction and mining.
He has an excellent grasp of the laws of Zimbabwe and has been involved in advising clients in a number of commercial transactions. He advises on a number of transactions involving investments into Zimbabwe in mining, energy, construction, manufacturing and banking.
Our Corporate and Commercial lawyers provide advice and assistance in the formation and organization of businesses of all types, including private business corporations, partnerships, and limited liability companies, sole proprietorships, non-profit corporations and joint ventures. The work of this department encompasses:
Agency, Distribution and Commercial Contracts
Commercial, Industrial and Residential Leases & Franchising
Insurance
IPOs
Private Placements
Securities Law & Exchange Compliance
Mergers & Acquisitions
Intellectual Property Licensing
Corporate Restructuring
Investments in Zimbabwe
The team is ready to help your business achieve its goals in a legally compliant and efficient manner.
Our firm was founded in Masvingo (formerly Fort Victoria) in 1902 under the name and style of Winterton, Holmes and Hill and was established in Harare (then called Salisbury) in 1928. The name was shortened to 'Wintertons' in 1998.
Wintertons Legal Practitioners provides a full array of legal services. Our commitment is to deliver the highest quality legal services to our clients. We understand the importance of accurately interpreting our clients' needs and delivering quick and reliable solutions to our clients.
We pride ourselves on being a modern, full range, commercial law firm. Our mixture of youth and experience enables us to maintain stability whilst creating innovative solutions for our customers' needs. Our firm has been recommended as a Leading Firm in General Business Law, and its Partners have been rated consistently as Leading Lawyers, by Chambers and Partners Global.
"Nikita Madya is joint head of the firm's commercial and corporate department and regularly assists clients with M&A and various other transactional matters. Market sources applaud his commercial expertise, describing him as "a good guy who is very solid."