Mark Haddad
USA: Massachusetts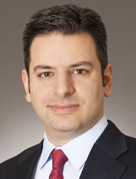 Foley Hoag LLP
Seaport West
155 Seaport Boulevard
Boston, MA 02210-2600
Tel: 617.832.1724

Email:
mhaddad@foleyhoag.com
Web:
www.foleyhoag.com
Mark Haddad has an extensive corporate practice for a client base that ranges from investment funds to startup and portfolio companies to large public companies. His work for them encompasses both transactional and governance issues.
Mark advises start-up companies – primarily those in the cleantech, high tech and life sciences sectors – on corporate formation, venture capital financing, and general corporate matters. He also represents private equity, venture capital and angel investors in portfolio investments with start-up and other companies.
For publicly held companies such as CRA International, Inc. and ABIOMED, Inc., Mark offers guidance on general corporate matters, securities filings in compliance with the federal securities laws, and corporate finance (including public offerings and private placements). His transactional practice has particular emphasis on representing both buyers and sellers in mergers and acquisitions, joint ventures and other strategic transactions. As part of this work, he counsels public companies regarding defensive measures, including the adoption of stockholder rights plans.
Since we believe that business goals and the law are inextricably intertwined, Foley Hoag seeks to understand your business almost as well as you do. This commitment sets the stage for expert legal advice and a rewarding relationship with our clients.
Foley Hoag, a top law firm with offices in Boston, New York, Paris and Washington D.C., counsels business owners from inception through financing, growth, maturity and exit. Clients seek our legal counsel in a wide range of specific matters, including ownership structure, SEC and regulatory compliance, executive compensation, intellectual property, product distribution, financing, mergers & acquisitions and much more. Our general business legal counseling services address all aspects of our clients' day-to-day needs for business-oriented legal advice.
Foley Hoag has deep experience in the areas of Technology, Life Sciences, Energy & Clean Tech and Investment Management. We have also built an extensive record in other industries. We have a diverse client base that includes numerous start-ups, successful private businesses, investment funds and small and large publicly traded companies. Our membership in Lex Mundi, the largest international association of independent law firms in the world, also gives us immediate and reliable access to the expertise of leading law firms in more than 155 countries.
With eight decades of general business law experience, Foley Hoag values both cost-effectiveness and creativity, even when that means finding legal solutions no one expected.
Foley Hoag is committed to helping our clients achieve their desired results by excelling in the time-honored practices of the legal profession and seizing on new ways to continuously improve our performance and service level.
Since 1943, Foley Hoag has represented public and private clients in a wide range of disputes and transactions around the world. We have established a lengthy record of success in industries such as life sciences, health care, technology, energy/renewables, investment management and professional services. We also offer our clients market-leading international litigation and arbitration services, and unmatched counsel in the evolving field of corporate social responsibility.
From our offices in Boston, Washington, D.C., New York, and Paris, we provide creative, strategic legal advice tailored to clients' unique goals. Our powerful regional, national and international practices share a common emphasis on superior client service.
"Mark Haddad is appreciated by clients for his ability to "zero in on what matters for the deal and for the business." His practice encompasses all manner of M&A transactions including venture capital investment in the tech sector."