Marc Saroufim
Saudi Arabia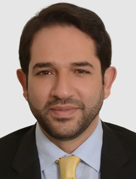 BSA Ahmad Bin Hezeem & Associates LLP
Al Akaria Plaza, 501, Level 5, Gate D
Olaya Street, Al Olaya, Riyadh
Saudi Arabia
Tel: +966 11 836 3900

Email:
marc.saroufim@bsabh.com
Web:
bsabh.com
Marc is Head of the Corporate Practice in the Riyadh office of BSA. He is a US-trained legal consultant with over 15 years' experience in advising clients on legal matters within the corporate and commercial sectors.
Prior to joining BSA, Marc headed the legal practice at Al Zorah Development Company, a UAE joint venture company, partly owned by major real estate developer Solidere International. He later worked for eight years at regional law firms based in KSA.
Marc represents high profile clients, including local and international companies, family-owned businesses, high-net worth individuals, government organisations, and SMEs. He specialises in transactions involving joint ventures, M&A, real estate development, agency and distribution, franchises, corporate formations, employment, and company restructuring.
Marc holds a BA in International Relations from Boston University and a Juris Doctor from Valparaiso University School of Law.
With an experienced team that has worked on some of the most dynamic corporate law deals in the Middle East, we can help guide you through every aspect of corporate law in this uniquely nuanced marketplace.
Whether you are operating in the private equity, finance, oil and gas, insurance, hospitality, healthcare, education or any other sector, our expert lawyers will leverage their local knowledge and contacts to ensure that your corporate interests are protected.
However, we understand only too well that knowing the law simply isn't enough. That's why our lawyers are immersed in the sectors in which they operate so that we can provide advice to you that is as commercially grounded as it is technically excellent.
As competition in the Middle East increases, the need for business efficiency is greater than ever. This is driving an upsurge in M&A activity across the region, as firms look to consolidate in order to strengthen their position in the market.
Having worked on some of the most prominent national and international M&A deals in the Middle East, our team can help you with any aspect of buying or selling another company in the region or beyond. We can also help you with all the associated aspects of M&A such as government contracts, environmental law, real estate and employment.

BSA traces its roots to 2001 when it was first founded in Dubai, with the primary mission of offering legal services that combine comprehensive knowledge of local law with a modernised and progressive approach to legal practice.
Today, following our expansion across the Middle East and now France, and the joining of Senior Partner Dr Ahmad Bin Hezeem, former Director General of Dubai Courts, we have consolidated our excellence-driven regional reach. Our access to key local authorities and our solid legal expertise across a broad spectrum of industries sets us apart as one of the few Dubai-headquartered legal practices that have exceeded their original boundaries.
The growth of BSA is built by lawyers of international and innovative legal minds, possessing extensive regional experience across industries and practices, local rights of audience before all courts in the jurisdictions in which we operate, and the legal support network of our affiliates in the MENA region, Asia, Europe, and the US.
Our lawyers come from diverse backgrounds, with the majority dual-qualified in both regional and international jurisdictions and fluent in multiple languages including Arabic, English and French. Our team is fully apprised of regional and international legal developments and we tailor our approach to specific industry sector needs.
BSA is a law firm that truly reflects the energy and ambition of the Middle East.
Major areas of focus include:
Arbitration and Dispute Resolution
Banking and Finance
Commercial
Construction
Corporate and M&A
Employment
Energy and Engineering
Insurance and Reinsurance
Intellectual Property
Litigation
Real Estate
Tax and VAT
Technology, Media, and Telecom