Jeremy Davis
Australia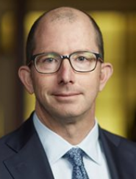 Johnson Winter & Slattery
Level 25, 20 Bond Street
Sydney, NSW 2000
Australia
Tel: +61 2 8274 9531

Email:
jeremy.davis@jws.com.au
Web:
www.jws.com.au
Jeremy is a corporate lawyer specialising in mergers and acquisitions, private equity, foreign investment and joint ventures.
He has worked for a leading New York law firm and has been involved in a number of major cross-border transactions.
Jeremy has recently acted for Bain Capital, Microsoft Corporation, Apollo Global, Blackmores, Battery Ventures, Archer Capital, Air New Zealand, Dalian Wanda, The Raine Group, Campbell Soup Arnott's, Metso Corporation, Natura Cosmeticos and BP.
Jeremy is regularly recommended as a leading Corporate lawyer by Chambers, Asia Pacific Legal 500 and Best Lawyers, and has been judged by leading General Counsel as one of Australia's best lawyers.
Our corporate lawyers have represented participants in some of Australia's largest transactions and provided advice on the implementation of company transforming deals, specialising in Mergers & Acquisitions (M&A) and Equity Capital Markets (ECM).
We are supported by specialist finance, tax, competition, property and IP lawyers who can assist in the resolution of a range of issues related to complex corporate and M&A matters, including ACCC merger clearances, transaction structuring, tax rulings, negotiation of acquisition finance facilities and due diligence.
Leading corporations work with us on a full range of M&A transactions, from innovative public takeover bids and major private-treaty acquisitions and disposals, to privatisations and complex court approved mergers by scheme of arrangement and large scale due diligence exercises. Our experience extends to stapling arrangements and asset transfer schemes, as well as the tax, competition and financing aspects of merger and acquisition deals.
Our industry experience is broad, covering a range of sectors and industries including energy and resources, agribusiness, financial services, media, transport, wine and other beverages, building products and consumer products.
We regularly engage with regulators (ASIC, ASX and the Takeovers Panel) and are actively involved in industry bodies and contribute to leading edge developments in mergers and acquisitions.
Johnson Winter & Slattery is engaged by major Australian and international corporations as legal counsel on their business activities, disputes and most challenging transactions throughout Australia and surrounding regions. Our representation of major corporations in many landmark and transformational deals and complex disputes positions us as a leading independent Australian firm.
With an appreciation of our client's commercial needs, we blend legal expertise with commercial and market awareness to deliver high quality legal services. This means working closely with clients and their in-house counsel to understand their commercial objectives, and ensuring our approach is tailored to deliver timely commercial outcomes.
Our higher ratio of senior lawyers means clients engage directly with the tactical minds and industry expertise required to succeed in complex and high stakes deals and disputes. A partnership ethos of service, technical excellence and collaboration ensures the most relevant specialist expertise and experience is brought to bear on every assignment.
"Jeremy is extremely measured and balanced. He always has client interests at heart. He's aware of all the risks and communicates this. He is highly commercial and astute"