Henry N. Nassau
USA: Pennsylvania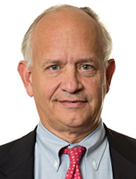 Dechert LLP
Cira Centre, 2929 Arch Street
Philadelphia, PA 19104-2808
United States
Tel: +1 215 994 2138

Email:
henry.nassau@dechert.com
Web:
www.dechert.com
Henry N. Nassau, Dechert's Chief Executive Officer, served as chair of Dechert's corporate and securities group for an aggregate of 14 years. Mr. Nassau represents private equity sponsors, venture capital firms, public and private corporations, management teams, boards of directors, and special committees in corporate and securities matters. He advises clients on mergers, acquisitions, dispositions, investments, securities offerings, proxy contests, corporate governance, and general corporate matters. Having served as general counsel and chief operating officer at a publicly-traded technology company, Mr. Nassau offers a particularly commercial perspective to his client representations.
Mr. Nassau has been recognized for fourteen consecutive years as a leading Corporate/M&A lawyer and has also been ranked as a leading Private Equity Buyouts lawyer by Chambers USA, a referral guide to leading lawyers in the United States based on the opinions of their peers and clients. In recent editions, Chambers has noted that Mr. Nassau is an "excellent practitioner," a "standout lawyer" and "a true professional" with "absolutely great judgment." Clients have described him as a "terrific, responsive and pragmatic attorney" who is a "go-to person" that "provides 'wise advice' on M&A and private equity transactions" and is "always there when [we] need top-drawer legal analysis." He is also recommended for corporate/M&A in the United States by Chambers Global.
Mr. Nassau has also been recognized for his work in corporate governance and compliance law, corporate law, and mergers and acquisitions law by The Best Lawyers in America, which named him the Corporate Compliance Lawyer of the Year in Philadelphia in its 2018 edition.
As former chair of Dechert's global corporate and securities group, Mr. Nassau played an instrumental role in expanding the practice's international platform across Europe, Asia and the Middle East in order to respond to the increasing global demands of the firm's client base. Dechert's corporate and securities group now has an equal proportion of lawyers inside and outside of the United States, and Mr. Nassau has devoted significant time to integrating the global team so that clients enjoy a seamless international experience when selecting Dechert to advise on cross-border matters.
Mr. Nassau left Dechert in 1999 for Internet Capital Group to serve as general counsel. He most recently served as ICG's chief operating officer, general counsel, and secretary.
Dechert clients seek our guidance with the full spectrum of corporate, finance, and business legal matters. Our lawyers advise national and multinational corporations, financial sponsors, regulated investment companies, and investment banking firms on all corporate issues, ranging from major mergers and acquisitions to financing and investment transactions to restructurings.
Dechert's interdisciplinary team of 450+ lawyers around the world counsels our clients on domestic, international and cross-border matters. Dechert attorneys use their knowledge of complex market dynamics and shifting legal backdrops to assist our clients with structuring transactions across all categories and geographies. Dechert's commercial approach coupled with our detailed understanding of the industries in which our clients operate creates additional value for clients as they complete innovative corporate and finance transactions.

We deliver deep legal expertise and practical commercial judgment for high-stakes matters in sectors with the greatest complexities, intricacies and regulatory demands.
Dechert is organized by practice area, not geography. Our 27 offices around the globe are seamlessly integrated.
This approach allows us to deliver a team responsive to unique project requirements and provide the resources needed to complete work with speed-to-market execution. Our lawyers understand the current marketplace, as well as rapidly evolving commercial and regulatory challenges, making us a preeminent full-service advisor.
We are a global, mobile workforce of diverse skills and areas of expertise. We use a project management approach to our workflow, enabling us to quickly adapt to changing client needs, maximize technology, drive efficiency and deliver value to our clients.
Our work is widely recognized within the legal industry, including top global-wide rankings for corporate investigations, international arbitration, investment funds and life sciences (Chambers Global, 2017).
"Excellent practitioner" Henry Nassau enjoys a strong reputation for his skill across an array of complex corporate transactions, including cross-border acquisitions and dispositions, as well as high-value mergers. Sources report: "He is a go-to person; he has good judgment and is very efficient."