Hans-Christian Ohrt
Denmark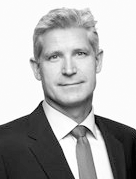 Andersen Partners
Jernbanegade 31
6000 Kolding
Denmark
Tel: +45 40 51 40 01

Email:
hco@andersen-partners.dk
Web:
www.andersen-partners.dk
Hans-Christian Ohrt's main area is the establishment, purchase and sale of companies. Over the past 20 years, Hans-Christian Ohrt has been involved in a significant number of national and international M&A transactions. In addition, he deals with general business consulting with the main emphasis on company law, Danish and international contractual relations, banking and finance law and board work.
Hans-Christian Ohrt also has extensive experience with the preparation and negotiation of loan agreements, including regarding acquisition financing and property projects.
As part of his M&A practice Hans-Christian Ohrt also provides advice on merger control aspects.
Hans-Christian Ohrt also sits on the board of a number of commercial companies.
Hans-Christian Ohrt is recommended by The Legal 500 and Chambers & Partners within Corporate / M&A. Chambers Global Guide for 2018 writes: "Head of Andersen Partners' corporate department, Hans-Christian Ohrt is praised as a " good negotiator who understands what we want " by clients who report that they expressly chose to work with him due to his " impressive " negotiation style. " He offers expertise to a broad range of companies and private equity funds on M&A, and advised Soderberg & Partners on its acquisition of the entire share capital in FMG Pension."
Hans-Christian Ohrt is accredited in Acritas Stars after being nominated by several of his clients for the following reasons: "He is a first foray for us into the Danish marketplace. He is very responsive and practical in the advice that he provided for us and the guidance that he gave throughout the acquisition" and "He assisted us through our first transaction in Scandinavia, and he was very pragmatic and commercial. Since then, we've been using him for general legal advice operating in Denmark, and he is just an excellent resource as a go-to for many, many different matters."
Andersen Partners employs some of Denmark's top lawyers in M&A, and we can compose a specialised team who have the professional expertise and capacity to solve any legal assignment related to the acquisition or sale of businesses – irrespective of level and business.
Andersen Partners has participated in a large number of transactions and has built up routine procedures and standards. This ensures that our clients receive cost-efficient advice, as our resources are concentrated on the special issues of the concrete task.
We advise on business transfer models and strategy, preside over negotiations and prepare option agreements, letters of intent and transfer agreements. We also assist in the due diligence process with our clients' other advisers.
Andersen Partners provides M&A solutions based on profound knowledge of the business and legal expertise guaranteeing our clients that we are able to head the process in an appropriate manner and constantly provide optimum advice.
For any transaction we select a team of competent lawyers with broad experience in acquiring or selling businesses. The team may be supplemented by experts from our other departments if relevant.
Examples of our services:
Preparation and planning of transactions and handling of structured sales processes;
Due diligence reviews and data room establishment;
Drawing up of agreements and documents, including confidentiality agreements, letters of intent, share purchase agreements and shareholders' agreements, etc.
Project management, acting as a strategic sparring partner and participating in negotiations;
Follow-up in relation to financing and implementation of transactions.
Andersen Partners is a modern law firm providing high-quality legal advice within all areas of specialization. We are driven by one clearly defined goal: We want the most satisfied clients.
Andersen Partners was founded by experienced partners who share the ambition of running a modern, commercial and internationally oriented law firm with focus on our clients' requests and our employees' development.
Our most important goal is to have satisfied clients. Our clients can therefore expect and demand that we do not only grasp the legal issues, but also understand their businesses, share their ambitions and find the pragmatic solutions required in order for them to achieve their goals.
Andersen Partners has its head office in Kolding and branch offices in Copenhagen, Odense and Hamburg. We are approx. 100 employees, 40 of whom are lawyers. For more details, see under People.
"Head of Andersen Partners' corporate department, Hans-Christian Ohrt is praised as a "good negotiator who understands what we want" by clients who report that they expressly chose to work with him due to his "impressive negotiation style."