Ferdinand Graf
Austria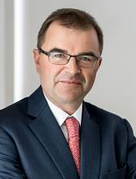 Graf & Pitkowitz
Stadiongasse 2
1010 Vienna
Austria
Tel: +43 1 401 17 - 0

Email:
f.graf@gpp.at
Web:
www.gpp.at
Ferdinand Graf is founding partner of Graf & Pitkowitz. He practices corporate law (M&A and Competition & Antitrust) and IT law (including Data Protection) – he is head of the firm's corresponding Practice Groups.
He regularly advises Austrian and foreign companies on all general corporate law matters as well as on complex – often cross-border – M&A transactions and corporate restructurings – he most recently advised LUKOIL and the Danish VKR group.
Ferdinand Graf is furthermore highly regarded as a litigator in his areas of expertise. For example, he recently advised and represented the French/Belgian Dexia group in its EUR 102 million lawsuit against the Republic of Austria throughout the course of the nationalization of the Austrian Kommunalkredit Bank; he also advised the Province of Salzburg in handling its much publicized "financial scandal" and represented in the respective litigation.
He has vast international expertise from his law studies in the United States and his practice in New York and Washington law firms. He is admitted to practice law in the State of New York.
Ferdinand Graf regularly publishes legal articles in his areas of specialization – especially on Competition & Antitrust Law and most recently on Data Protection.
Corporate law and mergers & acquisitions have been a core competence of our firm from its very beginning. Our specialized team of partners Ferdinand Graf, Otto Waechter, and Andreas Edlinger provides comprehensive advice to companies and their board members on all aspects of corporate law; from the set-up of a company, to ongoing advice, and up to liquidation, we literally advise "from the cradle to the grave". Among our clients are domestic and foreign companies from every industrial sector and of all sizes, including large global corporations, small and mid-sized businesses, as well as investors.
We advise and represent our clients on complex (often cross-border) corporate transactions such as restructurings, spin-offs, and transformations. Recent work includes advising Russian conglomerate LUKOIL on cross border restructurings and capital measures, as well as advising the Austrian publicly listed Andritz Group on the spin-off and subsequent merger of subsidiaries.
We have years of outstanding M&A experience – we advise our clients on simple acquisitions of participations as well as on complex cross-border M& A transactions. Among others, we have recently advised a buyer on the acquisition of a majority stake in the Austrian publishing company Verlagsgruppe News from German Publishing House Gruner + Jahr, as well as the Danish VKR Group on the sale of shares of an Austrian subsidiary.

Graf & Pitkowitz was founded in 1994 and is one of the leading independent Austrian commercial law firms with offices in Vienna and Graz. We advise on all fields of Austrian and European business law with a client base from all sectors of industry – both domestic and foreign. We have a particular strong focus on international arbitration, banking and finance, real estate matters and insolvency/restructuring.
Our team has about 40 qualified lawyers including 7 partners – most are recognized experts in their field and have years of international experience. Our firm is internationally known for its hard work approach and efficient and creative way of handling complex cases. We have an extensive network with international leading law firms across the globe – with whom we regularly cooperate based on a best friends philosophy.
"Ferdinand Graf is active in advising clients from a range of sectors on cross-border M&A transactions and corporate restructurings. He recently advised Marchfelder Bank on its spin-off from the Austrian Volksbanken group of banks."