Donald Baker
Brazil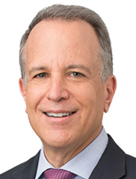 White & Case LLP
Av. Brig. Faria Lima, 2.277 – 4th Floor
São Paulo – SP 01452-000
Brazil
Tel: +55 11 3147 5601

Email:
dbaker@whitecase.com
Web:
www.whitecase.com
Don advises clients on a broad range of corporate matters, capital markets offerings, and corporate finance transactions.
He focuses on the Brazilian market and wider Latin American region, where he has amassed extensive knowledge and experience over the course of his career. He regularly works with Brazilian companies and financial institutions and also advises international clients interested in investing in Brazil and elsewhere in Latin America.
Don relocated to São Paulo in 1997 to open the Firm's office. He has represented Brazilian and other Latin American issuers in international offerings of debt and equity securities and private placements by an array of Latin American issuers. He is also regularly engaged in cross-border syndicated loans, structured finance and project financing transactions, as well as acquisitions and joint ventures.
Acquisitions, disposals and joint ventures have always been an important strategic option for corporations, financial institutions and private equity investors. Our clients rely on our advice to help understand and assess these options and execute their most complex transactions. Our global depth and breadth support our clients in both their domestic deals and their most complex multi-jurisdictional transactions.
Clients value our innovative approach and high degree of individualized attention. Our goal is to deliver superior service, earn your trust and build our relationship. Together with our clients, we have been involved in a number of market "firsts". Our knowledge and experience enable us to devise creative deal structures, win auctions, design acquisition and disposal programs and implement productive strategies for acquirers, sellers or acquisition targets.
White & Case is a truly global law firm, uniquely positioned to help our clients achieve their ambitions in today's G20 world.
As a pioneering international law firm, our cross-border experience and diverse team of local, US and English-qualified lawyers consistently deliver results for our clients.
In both established and emerging markets, our lawyers are integral, long-standing members of the community, giving our clients insights into the local business environment alongside our experience in multiple jurisdictions.
We work with some of the world's most respected and well-established banks and businesses, as well as start-up visionaries, governments and state-owned entities.
"Donald Baker has a great reputation… and receives warm praise for his impressive knowledge of the Brazilian market." He is noted for his 'extensive cross-border transactional experience' and is hailed as a 'seasoned, very hands-on lawyer"