David H. Schapiro
Israel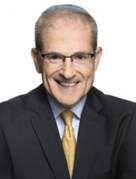 Yigal Arnon & Co
1 Azrieli Center
Tel Aviv 6702101
Israel
Tel: (+972) 3 608 7856

Email:
davids@arnon.co.il
Web:
www.arnon.co.il
David Schapiro has represented Israeli and international clients for the past 30 years in a diverse and sophisticated transactional practice.
David's experience includes representing domestic and foreign clients in complex corporate transactions, including mergers and acquisitions, public and private financings and project finance transactions. David has acted in some of the largest transactions completed in Israel.
Israel`s Maariv newspaper, has profiled David calling him "one of the most valued high-tech lawyers in Israel and the world." David has repeatedly been selected as "One of the World`s Leading Lawyers" by Chambers Global Guide to Law Firms. Legal 500 listed him as a recognized Israeli expert in the fields of Corporate Finance, Mergers & Acquisitions, Project Finance and Securities. Global Counsel 3,000 recommended him as a "Leading Individual" (their highest category) for "Company and Corporate Transactions", and he was highly recommended by Practical Law Company in the fields of Corporate/M&A and Restructuring and Insolvency. He has been quoted in Chambers Global guide as a "standout attorney who is quite able to think outside the box."
David also lectures on issues related to corporate governance and financing at Israel's key conferences and corporate finance forums.
Prior to joining Yigal Arnon & Co., David practiced law at Fried, Frank, Harris, Shriver & Jacobson in New York between 1987 and 1990. David joined the firm in 1990 and became a partner in 1994.
Corporate representation is at the core of Yigal Arnon & Co.'s practice. Our top-ranked Corporate and Commercial Group provides wide-ranging legal assistance to Israeli and multinational clients across all industries, from mergers and acquisitions, strategic collaborations, joint ventures and partnerships to debt financings, concessions, licensing and everything in between.
Our International Corporate Group works closely with the firm's other departments, including tax, real estate, antitrust, labor, intellectual property and litigation. This enables our clients to benefit from the full range of the firm's expertise. Our exceptional lawyers—many of whom are native English speakers educated at some of the world's leading law schools and trained at leading international law firms—provide a level of service and professionalism equal to that at any leading global firm.
Established over Sixty years ago, Yigal Arnon & Co is one of the largest and most dynamic law firms in Israel, with a proven track record of innovation and quality in meeting its clients' needs. Yigal Arnon & Co today numbers over 175 lawyers, of whom 61 are partners. With its focused practice groups, Yigal Arnon & Co has combined the expertise of a specialty boutique practice with the advantages of a well resourced multidisciplinary law firm.
The firm's diverse client base reflects our capacity to tailor work to specific client needs. Throughout our history, a full spectrum of clients has turned to Yigal Arnon & Co when seeking professionalism, service and integrity in helping them to resolve complex and challenging legal problems. Clients select us and stay with us for our comprehensive legal skills. We recruit first rate lawyers, many of whom have the highest academic credentials and join us after gaining invaluable experience with prominent firms overseas. We have a highly integrated work approach, and complement the expertise of our specialists with the pooled talents of the entire firm. Our reputation for achieving results has attracted and retained high-profile clients, demanding cases and exceptional lawyers.
"David Schapiro maintains a strong reputation in the corporate field advising PE and investment funds and technology companies. He advised Dentsply Sirona on its USD375 million acquisition of MIS Implants Technologies."