Daniel McEvers Mahoney
USA: Arizona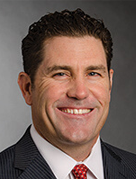 Snell & Wilmer
One Arizona Center
400 East Van Buren Street
Phoenix, AZ 85004-2202
Tel: 602.382.6206

Email:
dmahoney@swlaw.com
Web:
www.swlaw.com
Dan Mahoney's practice is concentrated in the areas of mergers and acquisitions, securities, private equity/venture capital, corporate law, and advising corporate boards.
He has been selected by his peers to Best Lawyers in America® since 2008, Chambers USA: America's Leading Lawyers for Business® and Southwest Super Lawyers®, including selection as a Top 50 Lawyer in Arizona in 2016. Dan was selected Lawyer of the Year in Venture Capital Law for 2013 by Best Lawyers.
Dan's clients operate in a wide variety of industries, including biotechnology and life science, software, Internet, technology, telecommunications, manufacturing, and transportation. Dan regularly represents clients ranging from emerging growth companies and those seeking venture capital to large publicly held corporations. He has written extensively on issues related to venture capital, licensing, securities and corporate law, as well as issues facing both entrepreneurs and large corporations. Prior to practicing law, Dan was a management and systems design consultant with Accenture.

All businesses, whether they are in the initial stages of development or have enjoyed a long history of success, face commercial and financial challenges that may require legal support or protection. Businesses may need assistance with SEC reporting and corporate governance, corporate organization, mergers and acquisitions, public and private securities offers, venture capital financing, fund formation, and franchising and distribution.
Snell & Wilmer's corporate and securities group has substantial experience in all areas of business and finance law. The breadth of our legal resources, coupled with a genuine desire on the part of our lawyers to work together to benefit our clients, results in what we believe to be the highest quality and most sophisticated legal services available. Each of our attorneys is dedicated to providing our clients with superior legal services on a timely, effective and cost-efficient basis, while maintaining the highest standards of professional integrity.
Founded in 1938, Snell & Wilmer is a full-service business law firm with more than 400 lawyers practicing in 12 locations throughout the United States and in Mexico. The firm represents clients ranging from large, publicly traded corporations to small businesses, individuals and entrepreneurs.
Snell & Wilmer and its lawyers have been recognized by clients and peers for exceptional legal skills and ethical business practices with various distinguished awards. Corporate Board Member magazine recognized Snell & Wilmer as the number one law firm to work with in Phoenix for 12 consecutive years; and the firm was named a "Go-To Law Firm®" as reported in Corporate Counsel®, a national magazine for general counsel. Snell & Wilmer is renowned for having extensive experience in a full range of transactional and litigation legal services.
"The "very well-respected" Daniel McEvers Mahoney is the cochair of the firm's venture capital and private equity industry group. He often represents clients within the technology, telecommunications, life sciences and biotechnology industries."