Dale H. Lastman, C.M., O.Ont.
Canada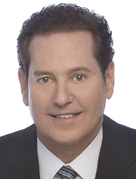 Goodmans LLP
Bay Adelaide Centre - West Tower
333 Bay Street, Suite 3400
Toronto, ON M5H 2S7
Tel: 416.597.4129

Email:
dlastman@goodmans.ca
Web:
www.goodmans.ca
Dale Lastman is Chair of Goodmans LLP and practices corporate, commercial and securities law, providing counsel in connection with public offerings, mergers and acquisitions, and business restructurings.
Dale is a Director of Maple Leaf Sports & Entertainment Ltd and serves as an Alternate Governor of the NHL and NBA. In 2019, Dale was elected Chair of the Board of Governors of the CFL. In addition, he serves as the Governor representing the Toronto Argonauts. Dale is actively involved in community and charitable organizations and is a Director and former Chair of Baycrest Health Sciences and a Honorary Trustee of the Hospital for Sick Children. He has extensive experience on corporate boards, and currently sits on the Board of Directors of RioCan Real Estate Investment Trust and Roots Corporation.
Dale is a Member of the Order of Canada and Order of Ontario. In 2014, Dale was appointed by the Minister of National Defence as an Honorary Captain of the Royal Canadian Navy. He has also been awarded the rank of an Honorary Detective by the Toronto Police Service. Dale has been recognized among "Toronto's 50 Most Influential People" by Toronto Life Magazine. He was honoured as one of the ICRF's 2010 "Men of Distinction" for his philanthropic efforts and contributions to the community and was presented with the ICRF's Chairman's Award in 2011 and 2012. Dale is a recipient of Canada "Top 40 Under 40" and its "Best of the Best" Canadian Leadership Award.
Dale is recognized as an Eminent Practitioner by Chambers Global (corporate/M&A), and is recommended as a leading practitioner by The Canadian Legal Lexpert Directory (corporate/M&A), Euromoney's Guide to the World's Leading M&A Lawyers, IFLR 1000 (M&A), The Lexpert/ALM Guide to the Leading 500 Lawyers in Canada (corporate finance) and The Best Lawyers in Canada (Corporate / M&A / Securities / Corporate Governance Practices / Sports Law). He has also been recognized as the Canadian Lawyer of the Year in M&A and Sports and Entertainment Lawyer of the Year by the Finance Monthly Law Awards.
For over 30 years, Dale was one of Osgoode Hall Law School's longest serving lecturers in securities law. During his tenure, he received the Adjunct Faculty Award for Teaching Excellence as well as the Alumni Gold Key award for outstanding professional achievement and contribution to the legal community. In 2014, Dale was named Distinguished Visiting Fellow in the Law Practice Program at Ryerson University.
Goodmans' Corporate and Commercial Group is the largest in the firm – bringing together business law and transactional work, with all the strategic entrepreneurial flair for which we are known.
In many ways, our business law capabilities are the very traits that make our transactional services so successful.  By helping companies formulate and implement their business strategies, we are able to cultivate a profound understanding of the clients long-term objectives.
A large number of our business law clients have been with the firm since their businesses began – some of them upwards of 30 years.  Even now, with clients among the world's largest multinationals, we honour our roots, and advise start-ups and small businesses with equal passion.
Clients call upon Goodmans when a complex transaction needs to be pulled together with skill and finesse because of our recognized skill in every significant area of corporate and commercial law, including:
structuring financings using public and private debt and equity markets
structuring shareholder and joint ventures arrangements
managing public offerings and joint ventures
providing corporate governance advice
handling acquisitions, sales and restructuring of private companies
documenting the activities in a manner that clearly establishes the clients' rights
Our business law team is unique in its celebration of time-honoured, seasoned generalists – an increasingly rare breed at many firms, but the kind of advisor that more and more clients crave.  We have always embraced the client relationship model – offering a trustworthy business partner to resolve complex issues, provide strategic advice, and ensure the client is happy with every level of service across the firm.
Goodmans LLP is recognized internationally as one of Canada's premier transaction law firms because our lawyers and clients are industry leaders. Our lawyers excel in their fields to help clients excel in theirs – both ensuring ever-higher levels of service and business success. Further, we offer a unique combination of skills – spanning business law and litigation; public and private; tradition and innovation.
With a strategic entrepreneurial history and deal-making mindset, Goodmans lawyers deliver intelligent solutions, responsiveness, energy, talent, and determination to get the deal done. It's more than just legal services; it's strategic business advice.
Clients appreciate our dedication to exceptional service, community partnership and mutual respect. That's why so many clients have been with the firm since their businesses began – for over 30 years in some cases. Even now, with clients among Canada's largest corporations, financial institutions and multinationals, the firm honours its roots – in client service and in community service.
"Chair of the firm Dale Lastman is a "great negotiator" whose "leadership is second to none," report sources. He assists clients with public offerings, M&A and restructurings."