Brian C. Larsen
USA: Idaho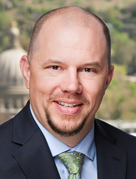 Stoel Rives LLP
101 S. Capitol Boulevard
Suite 1900
Boise, ID 83702-7705
Tel: 208.387.4240

Email:
brian.larsen@stoel.com
Web:
www.stoel.com
Brian Larsen provides business transactional legal services, with an emphasis on day-to-day corporate law matters, corporate governance, mergers and acquisitions, securities law, and banking law. Brian acts as outside legal counsel for corporations, ranging from established public and private businesses to emerging-growth businesses and entrepreneurs. He works with business owners, boards of directors, managers, employees, investors, customers, and vendors to respond to their day-to-day business needs and legal issues.
Brian's experience includes reviewing and drafting corporate contracts, including supplier agreements, distribution agreements, sales agreements, joint venture agreements, purchase agreements, agency agreements, license agreements, employment agreements, and confidentiality agreements. He counsels clients on negotiating and drafting letters of intent and term sheets concerning the asset and stock acquisition of target corporations, conducts due diligence review of target corporations, and negotiates and drafts definitive purchase agreements regarding the acquisition of such target corporations. He advises clients with respect to securities law and regulatory issues, representing clients in structuring various debt and equity capital transaction, including obtaining financing from investors and financial institutions, the private placement of securities, and other financing alternatives.
With more than 350 attorneys, Stoel Rives is a leader in corporate, energy, environmental, intellectual property, labor & employment, land use & construction, litigation, natural resources, real estate, renewable energy and technology law.
We achieved 35 prestigious national tier rankings in the 2019 U.S. News – Best Lawyers® "Best Law Firms" survey. The 2018 Chambers USA: America's Leading Lawyers for Business® guide ranks 94 of our lawyers among the best in their region. Best Lawyers® lists 133 of our lawyers in 67 legal practice categories in its 2019 directory and selected 22 Stoel Rives lawyers as a 2019 "Lawyer of the Year" in their markets and practice areas.
Stoel Rives is a member of TerraLex®, an international network of 155 leading independent law firms serving the business needs of clients around the globe. This membership gives our clients access to local counsel in 100 foreign countries and 44 U.S. states. More than 20 practice specialties are represented in the network, including banking, corporate, environmental, insurance, intellectual property, labor & employment, real estate, tax, and transport & logistics.
Membership is by invitation only and involves an annual review process. Every U.S.-based TerraLex® member received a ranking in the 2015 U.S. News – Best Lawyers® "Best Law Firms" survey. Stoel Rives represents TerraLex® in three states (Alaska, Oregon and Washington) and uses the network to provide its clients with seamless service throughout the United States and abroad.
"Brian Larsen 's expertise encompasses M&A, corporate governance and securities law. Clients say he is "very good at what he does" and "very good at getting to a solution.""