Azucena Marín
Mexico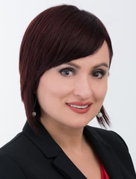 Cuesta Campos Abogados
Paseo de la Reforma 222, 9th floor
Col. Juárez, 06600
Ciudad de México
Tel: +52 (55) 5540 1737

Email:
amarin@cuestacampos.com
Web:
www.cuestacampos.com
Azucena's practice is focused on mergers and acquisitions, financial and real estate transactions. Her other areas of expertise include foreign investment, competition law and corporate governance.
For over 20 years, she has counseled multinational corporations in business start-ups, corporate restructuring, strategic acquisitions, joint ventures, asset based lending, among other key transactions, giving advice on compliance issues involving topics such as anticorruption, competition, money laundering.
She has participated in industrial, residential, commercial and touristic projects, including strategic acquisitions, real estate trusts, sale/lease-backs, built-to suit leases, hotel management, condominium structuring, development & construction agreements, mortgages, easements, title insurance, financial structures, estate planning.
Azucena is VP and associate of the Board of the National Association of Corporate Lawyers in Jalisco (ANADE Jalisco), member of the American Bar Association, also member of the National Executive Board of the Mexican Institute of Best Corporate Practices (IMMPC), the Board of Directors of the American Chamber of Commerce, Guadalajara chapter, and Honorary Secretary of the David Gutiérrez Carvajal Foundation, a non profit organization that manages a nursing home.
She has been guest speaker at conferences organized by the Universidad Panamericana, the American Chamber of Commerce (AMCHAM), Mexican Institute of Best Corporate Practices (IMMPC), Meritas Law Firms Association, the Mexican Bar Association (BMA), ANADE Jalisco and AMPI, a real estate agents association, on topics regarding legal due diligence, corporate governance, cross-border M&A transactions, financial transactions, antitrust and anti-corruption. She completed a year-long project as participant in the Meritas Leadership Institute Class 2011-2012, about the benefits, security and ethical issues that law firms worldwide should consider when converting to the "cloud", named "Meritas in the Cloud: The Digital Law Office".
She was professor of Corporate Governance and is currently professor of Competition Law and member of the Academy of Commercial and Business Law at the Law School (Facultad de Derecho) of the Universidad Panamericana in Guadalajara.
Articles published: "The ACC Value Challenge, a project to increase value by outside counsel services to their clients", published in the magazine "Abogado Corporativo" (in English: Corporate Counsel) in its edition of January/February of 2011, and "The importance of Compliance" at the Best Corporate Practices Magazine on September 2013.
Before joining Cuesta Campos, she worked at a prestigious law firm specializing in commercial litigation and corporate advice. She also worked for over 5 years on public brokerage services (correduría pública) and notarial attest.
Cuesta Campos' broad client base includes private and public companies of different sorts. Their scope of activities encompasses businesses, retail contract manufacturing, electronics, commercial, pharmaceutical, real estate and financial operations, among several others. We develop close client relationships which enable us to understand our client's businesses and advise them on their daily needs in accordance with their operation policies. (Foreign Investment, Partnerships and Corporations) CCA's attorneys take pride in providing practical and efficient advice to our clients, providing comprehensive advise which includes the business and strategic considerations that are relevant in every deal.
CCA's start up advice is based on the creation of Mexican companies. This includes partnerships, public or private corporations, and limited liability companies. We also have developed expertise in international business transactions, public and private offerings, and a variety of general corporate matters.
Cuesta Campos (CCA) Corporate Law Practice includes a wide array of services, ranging from corporate and business planning, corporate restructuring, financial and real estate transactions, start ups, corporate governance, commercial contracts, and legal advice on day to day corporate legal needs.
Cuesta Campos y Asociados (CCA) is a full service Mexican law firm, founded in 1978. CCA has become a leading Mexico Business law firm, recognized for its top quality legal services, rendered under the highest ethical standards. Client satisfaction and long term professional relationships with their clients have been used as their measure of success.
The firm has offices in México City, Guadalajara and León, as well as a presence in Monterrey, Tijuana, Ciudad Juarez and Cancun, through long standing professional affiliations.
The firm is recognized for its impressive client list, which is mainly composed by North American, European and Asian multinationals and foreign Banks operating in various Mexican jurisdictions, as well as by leading Mexican entities doing business abroad.
Representative clients include: Plexus, Industry Products Company, Almidones Mexicanos, Audi, Bank of America, Bank of Montreal, Brothers, Canon, Crocs Intl., Electronic Arts, Inc. (EA), Fender Musical Instruments, Flextronics, JP Morgan, Laboratorios Pisa, Nike, Omron Electronics, Patron Spirits, Royal Bank of Canada, Sanmina, Subway, Vee Rubber, Wells Fargo, ZF Sachs, among others.
CCA has developed significant expertise in cross border transactions, and has consistently obtained the highest level of client satisfaction in regular client surveys.
All attorneys and staff are fully bilingual and many hold postgraduate studies and LLM's in leading Universities in Mexico and abroad.