Arkady Krasnikhin
Russia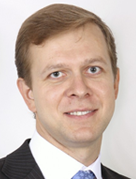 Egorov Puginsky Afanasiev & Partners
40/5 Bol. Ordynka,
Moscow, 119017
Russia
Tel: +7 (495) 935 8010

Email:
arkady_krasnikhin@epam.ru
Web:
www.epam.ru
Arkady Krasnikhin's areas of practice include corporate law, M&A and finance. He has extensive experience of representing major Russian and international clients in acquisitions and mergers, structuring complex corporate and financial transactions, and providing day-to-day legal support.
Arkady has been involved in several projects in the areas of M&A and corporate law, including:
Advising an international investment group on the creation of a joint venture for the extraction and processing of precious metals.
Advising a major pharmaceuticals company on the creation of a joint venture for the development and manufacturing of medicines.
Advising a major oil and gas company on the sale of its foreign assets.
Advising Rosgeologia on a wide range of matters pertaining to corporate law, and providing legal support for corporate transactions.
Advising a Russian pharmaceuticals holding on matters of corporate restructuring.
Advising a shareholder of the fishing company Norebo Holding on the acquisition of a block of shares in the company from a foreign investor.
Advising a Russian company on the acquisition of a stake in a major transnational pipeline project including coordination of legal teams in several CIS jurisdictions.
Advising a state investment and development company in the United Arab Emirates on the creation of a joint venture with a Russian state investment fund to carry out energy infrastructure projects in Russia.
Providing legal support for the acquisition of a block of shares in Tele2 Russia by a consortium of investors.
Advising Metro Group on an agreement to sell the Real hypermarket chain to Auchan.
Advising and supporting a Russian company on a deal to acquire a thermal power plant.
Arkady joined Egorov Puginsky Afanasiev & Partners in 2004, and became a partner in 2007. He graduated with honours from the St. Petersburg State University School of Law and obtained an LLM degree from New York University. He is a member of the St. Petersburg Bar Association and is licenced to practise in the State of New York.

We boast the largest M&A and Corporate Practice in the CIS, working as one team together with the Firm's lawyers in tax, antitrust, employment and litigation practices, offering clients comprehensive advice on sophisticated transactions and day-to-day operations.
We are committed to our region and our clients, and whilst the legal capabilities of other international law firms in the region shrink, we continue to invest in our associates at all levels, including education and secondments to leading UK and US firms, as well as make new hires into our market-leading teams.
In 2015 Egorov Puginsky Afanasiev and Partner's corporate team won the prestigious Corporate Deal of the Year Award at The Lawyer European Awards, competing with the leading UK, US and European firms, which goes to prove our global recognition in the corporate field. We are actively engaged in developing the national law of CIS countries, which means that our advice is at the forefront of any legislative changes that may affect our clients.
Our Firm's lawyers are co-authors of complete and comprehensive reform of the Russian Civil Code. We have specific know-how in adaptation of concepts of English law to local requirements and their effective subsequent enforcement in the CIS.

Egorov Puginsky Afanasiev & Partners is the leading law firm in the CIS with offices in Russia, Ukraine, Belarus and associated offices in the UK, the USA and Cyprus.
Founded in 1993, the Firm provides the full range of legal services to domestic and foreign businesses, international organizations and financial institutions across the CIS.
Egorov Puginsky Afanasiev & Partners advise its clients in many areas of law, including commercial dispute resolution in Russia and abroad, corporate law, M&A, project finance and PPP, antitrust practice, restructurings and insolvencies. We also offer our clients advice on energy and natural resources, property management and privatization, environment, technical regulation and industrial safety, banking and finance, intellectual property, sports law, criminal law, real estate and construction, taxation, family and labour disputes, marine and transport law, and international trade and customs.
In our work we combine our expertise in emerging markets with the highest professional standards. We offer our clients a comprehensive approach with a blend of legal advice, representation of clients before the regulator, interaction with mass media and general public and other services.
Our lawyers are highly qualified legal experts with experience of working in-house and in academia.
In all jurisdictions of our presence, the Firm's experts are actively involved in business and legal communities and are regularly engaged as consultants on various aspects of law by executive, legislature, and judiciary authorities, as well as Russian and foreign NGOs.
The Firm's lawyers can provide services in Russian, Ukrainian, Belarusian, English, German, French, Italian, Spanish and Portuguese languages.
"US-qualified Arkady Krasnikhin assists with a broad range of corporate matters, including structuring, transactions, joint ventures and advisory matters. A source says he is "fast-thinking and provides practical legal solutions. He's creative when required."