Alexis Crump
USA: California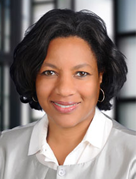 Lewis Brisbois Bisgaard & Smith LLP
633 West 5th Street
Suite 4000
Los Angeles, CA 90071
Tel: 213.599.7769

Email:
alexis.crump@lewisbrisbois.com
Web:
www.lewisbrisbois.com
Alexis Crump is a partner in the Los Angeles office of Lewis Brisbois and Vice-Chair of the National Corporate Practice. Ms. Crump has more than 20 years of experience in municipal and corporate finance, real estate, redevelopment, EB-5 financing, and mergers and acquisitions.
Her interest in real estate development and investments was sparked as a law clerk at Bechtel Engineering Corporation and Bechtel Investments, Inc. From there, she has gone on to represent public entities, developers, private equity groups and financial institutions in commercial, retail, industrial, infrastructure and residential real estate financings throughout the United States. Ms. Crump has assisted clients in the capacity of bond counsel, disclosure counsel, corporate counsel, developer's counsel and bank counsel. Ms. Crump has handled the issuance of tax allocation bonds, multi-family housing bonds, lease revenue bonds, certificates of participation, private placements, private equity mezzanine financings and bank financings ranging from $5 million to over $400 million. She has been legal counsel for over $1 billion in finance transactions during her career.

Lewis Brisbois' Corporate practice is well positioned to serve our clients' corporate and business law needs in a comprehensive yet efficient manner, utilizing, as needed, our many office locations through the country. Our lawyers take a business approach to transactions and counseling and are accustomed to working within budgets on tight deadlines for large, mid size and small companies and investors.
As demanded in today's increasingly complex business environment, our resources include in-house experts in many related specialty areas of practice at the ready to work as a coordinated team for the benefit of our clients in a wide range of corporate and business transactions.
Our Corporate practice group can also serve as outside General or Special Counsel, to coordinate and handle all legal aspects of your business, bringing in specialized experts as needed—not just responding to problems as they arise, but also spotting potential issues and addressing them proactively with cost-effective solutions. We take a problem solving approach to business law, and our lawyers understand the role they can play helping clients grow their companies and create wealth through mergers, acquisitions as well as sound contract and risk management.
Lewis Brisbois offers legal practice in more than 40 specialties, and a multitude of sub-specialties. Our attorneys have broad knowledge, experience, and sensitivity to our clients' unique needs. Through interaction among our practice groups, Lewis Brisbois provides a wide range of legal services to each client with a continuity of representation across multiple disciplines. We have built longstanding relationships with corporate and institutional clients based on our ability to provide comprehensive service on a national scale.
With offices from Los Angeles to New York and Seattle to Miami, our attorneys reflect the communities in which they live. Lewis Brisbois' culture has fostered a diverse group of professionals committed to promoting the best interests of our clients, our communities and the legal profession. We support diversity in communities across the nation through new and ongoing relationships with minority and women-owned businesses.
"Los Angeles Business Journal top 50 Most Influential Woman Lawyers in Los Angeles, 2017 "